Stories Published on January 11th, 2012 | by Seán Ward
0
New Kia Optima to go on Sale in February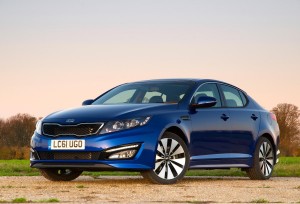 The newest four door saloon from Korean automaker Kia, the Optima, will go on sale in the UK on 1st February.
Unveiled in 2012, when it went on sale in Korea it became the top selling car in Korea within one month, and Kia has already sold 300,000 worldwide, so Kia UK is hoping for positive results in the UK too.
Unfortunately, though, Kia has said the Optima is aimed at the 'business majority', meaning the only engine to be sold in the Optima, for now at least, is the 1.7 litre diesel engine.
According to Kia, the interior is 'youthful and sporty, giving the driver a hands-on, totally engaged feel.  The fascia, tilted towards the driver at an angle of almost 10 degrees, has been designed on aircraft principles so that all the major controls are within the driver's sight-line for best visibility and ease of use.'
There's more boot space in the Optima than previous Kia saloons, and this is also the largest Kia saloon – 45 mm longer than before.
Disk brakes are included as standard – no feeble drums here – with the pair up front being vented.
Kia's Electronic Brake-force Distribution (EBD) and Brake Assist, Electronic Stability Control (ESC), Vehicle Stability Management (VSM), and Emergency Stop Signalling system (ESS), which flashes repeatedly in quick succession to warn motorists behind that the car is breaking heavily, are all fitted as standard.
The 1.7 litre engine produces 134 bhp and 325Nm of torque, giving a 0-60 mph time in manual cars of 10.2 seconds, and 11.5 seconds in automatic versions. The top speeds are 125 mph and 122 mph respectively.
Kia's standard trim levels (1, 2 and 3) feature on the Optima, but alloy wheels, air conditioning, LED daytime running lights, a leather steering wheel, Bluetooth connectivity with voice recognition and music streaming, steering wheel-mounted audio controls, electric windows and electric folding mirrors and cruise control are fitted right from the basic model.
Prices start at 19,995 and rise all the way to £25,995, with customers able to opt for the £299 Care-3 package (which covers the first three services – either 36 months or 30,000 miles), or the Care-3 Plus package for £549 (which covers the first five services – either 60 months or 50,000 miles).
[portfolio_slideshow]