Stories Published on January 23rd, 2012 | by Seán Ward
0
New Lancia Stratos Final Testing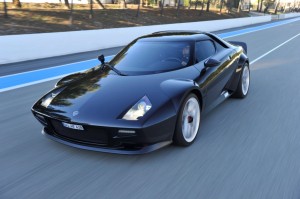 It's been almost a year since there was anything of a hype over the new Lancia Stratos, but the journey isn't over yet.
Commissioned by a wealthy American Lancia enthusiast and classic car racer Michael Stoschek, engineers behind the project cannibalised a Ferrari F430 Scuderia, ripping all the body work away and throwing it in the bin, before putting all of the mechanicals under a new Stratos body, including the rather excellent 4.3 litre V8 engine.
The body, made completely of carbon fibre, was built by Pininfarina in Turin, Italy, and designed to look similar to the old Stratos, but different enough to not just look like another replica.
Once everything had been put together, Portuguese WTCC pilot and former Formula 1 driver, Tiago Monteiro, began testing the car with Stoschek, fine tuning the chassis with engineers from ZF Sachs.
Although not quite finished, it has been confirmed 0-60 mph takes 3.3 seconds and the top speed is limited to 170 mph because of shorter gearing to improve acceleration.
The video shows the final stages of testing before Stoschek can finally take the Stratos home in a few months time.
[portfolio_slideshow]