Stories Published on April 1st, 2011 | by Seán Ward
0
New M3 to Celebrate Royal Wedding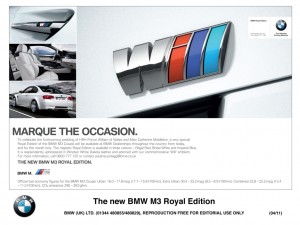 To celebrate the wedding between HRH Prince William and Kate Middleton at the end of April, BMW has announced it will be launching a special edition M3, the Royal Edition.
Available in three colours, Regal Red, Bridal White and Imperial Blue, Joe Kerre, BMW Junior Operations Kindle Executive at BMW's Forschungs und Narren division in Munich, said that it can be ordered in any dealership and would make the "ideal wedding gift".
If you have enough money to pay for it, that is.
And if you know of a manuacturer who's making it – it seems that the first German joke has come from BMW on April Fools…