Paris 2012 Published on September 27th, 2012 | by Seán Ward
0
New Maserati SUV: the Levante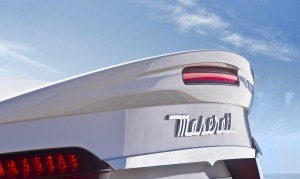 We reported recently that the new Maserati SUV would not, as everyone had expected, be called the Kubang, but today, as the world is gripped by Paris Motor Show furore, Maserati has announced the new car will be named 'Levante'.
According to the press release, it is "derived from 'Via Emilia Levante' in Bologna where, almost a century ago, the Maserati brothers dreamt of the company that today still bears their name.
"Considering that Levante will be marketed in 2014, the year Maserati will celebrate its Centennial, it seems a very apt name and, in many ways, a bridge to Maserati's future."
Also mentioned in the press release was confirmation that the new Quattroporte will keep the Quattroporte name,  and that a new high-end E segment four-door saloon will be named Ghibli.
With the range expansion, Maserati hopes a massive increase in sales, expecting an annual sale of 50,000 vehicles.