Stories Published on April 25th, 2012 | by Seán Ward
0
New Mercedes Showroom App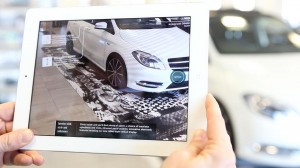 Mercedes has released a new app for the iPad that allows Merc fans and genuine customers to look around a virtual showroom.
Sounds good, but you have to go into the showroom to use Mercedes' own iPads in order to play around with the app. But technology gurus have said the app, or an app similar to the showroom version, could be launched to the public, more as a novelty than a purchasing aid.
As well as the B-Class Augmented Reality Showroom App, also included are the C-Class Coupe and B-Class brochure apps.