Stories Published on March 21st, 2012 | by Seán Ward
0
New Mercedes SL65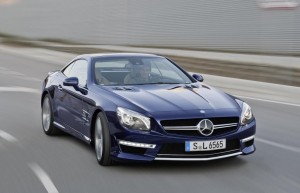 Despite shouts that the age of the V12 engine was long gone, and the day of the turbo-V8 was just getting into its stride, Mercedes has revealed its new SL65 AMG, with a 6.0 litre twin-turbocharged V12 engine.
Keeping in touch with the times, the SL65 produces a modest amount of power and torque: 630 bhp and more than 740 lb/ft.
Impressive power combined with a weight reduction over the last SL65 of 170kg, thanks mainly to a lighter, all aluminium body, means 0-60 mph takes 4 seconds, 0-124 mph in 11.8 seconds, and on to a limited top speed of 155 mph.
Perhaps more important is that AMG has stuck with the V12 and managed to make if 17% more efficient, able to achieve 24.4 mpg on the combined cycle.
A new AMG Speedshift Plus seven-speed gearbox has been fitted, which is supposed to give better low down acceleration but slightly lower engine demand at high speeds in order to achieve fuel efficiency.
Safety is supposedly improved too with a host of new systems and revised traction control and stability management programs.
Cars will be delivered in the Autumn, and prices will be released in the next moth once the final UK specification has been decided.
Mercedes has also redesigned its fleet website, so you can now explore the SL65 and other cars like the SLS in a bit more detail.
[portfolio_slideshow]