Stories Published on May 5th, 2011 | by Seán Ward
0
New Mercedes SLS Roadster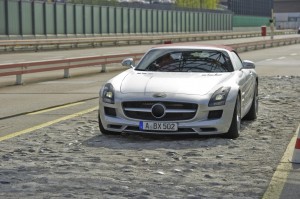 Mercedes has today unveiled the soft top variant of its SLS.
With the roadster, AMG has put all its effort into making the body as strong as possible whilst keeping the weight low, and it appears that they have.
The body shell on its own weighs just 243 kg, just two kilos more than the hard top.
The cloth folding roof takes just 11 seconds to fold away, and can be folded at speeds up to 31 mph.
Although the top speed has had to have been electronically limited to 197 mph, the car still features the same 6.2 litre V8 producing 571 bhp.
Head of development, Tobias Moers, said that "The SLS AMG Roadster is a super-sports car – just like the Coupé.
"It goes without saying that AMG is also determined to achieve superior driving dynamics with this open-top variant."
The SLS Roadster will be launched officially at the Frankfurt Motor Show in September.
[portfolio_slideshow]