Stories Published on January 6th, 2012 | by Seán Ward
0
New Peugeot 107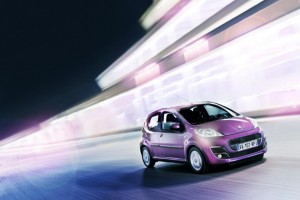 The 2012 Peugeot 107, due to go on sale in February, has been revealed today, with a new 'youthful spirit'.
Updated to fit in with other new small cars, it now has LED daytime running lights and a more aggressive from and rear bumper, characteristic of most small cars – cute and cuddle looks have gone.
There are three trim levels available (Access, Active and Allure), and prices start at £7,995 for the three door Access.
The 1 litre petrol engine produces 68 bhp and 70 lb/ft of torque – not a lot, so the 0-60 mph time is a very lengthy 14.2 seconds. The top speed is 100 mph, and the car is only available with a five speed manual gearbox.
Combined fuel efficiency is 65.69 mpg, with the extra urban standing at 74.22 mpg.
According to Peugeot, 60% will opt for the five door version, offering more space for families while staying in a small car, whereas the other 40% are younger customers, who only require the three door variant.
Buyers can also opt to buy 'Just Add Fuel', a service offered by Peugeot which includes three years fully comprehensive servicing, three years warranty, three years servicing, and three years roadside assistance.
[portfolio_slideshow]