Geneva Motor Show 2012 Published on February 17th, 2012 | by Seán Ward
0
New Peugeot 208 GTI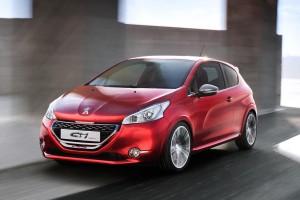 Two new concepts will be unveiled by Peugeot at Geneva, the new 208 XY, a luxury 208, and, more importantly, the GTi Concept, which will have the same 1.6 litre petrol engine as the RCZ, with more than 200 bhp.
Recognisable by the chequered flag grille and the French 'Le Tricolour' flag or the Union Jack in the UK, the GTi also has chrome twin exhaust pipes and an all leather interior.
It's 36mm wider at the front and back, has uprated sports suspension, a rear spoiler and new brakes: 302mm at the front and 249mm at the rear.
The 208 XY has 1.6-litre e-HDi engine with 115bhp, linked to a 6-speed manual gearbox.
According to Peugeot, it 'transports its occupants in a refined environment' with its leather interior, special 'Pulsion' paintwork and 18" alloy wheels.
[portfolio_slideshow]