Stories Published on June 27th, 2011 | by Seán Ward
0
New Pothole Road Sign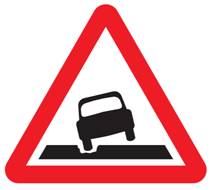 Online insurance comparison website Confused.com has created a specially designed sign to warn motorists of potholes.
This is the first pothole road sign to be designed for the UK, and Confused.com is petitioning for the sign to be introduced by the Department for Transport to warn Britain's motorists of the 2 million potholes on UK roads.
It has been designed after research suggested that it would take councils 11 years to repair all of the UK's current potholes.
Ted Relf, a plumber from Kent who designed the sign, "We all moan about potholes and now we have the chance to do something about them.
"I created my own pothole sign last year because I was concerned for the safety of drivers on my road. I fully support the introduction of an official pothole road sign and urge the nation to sign the petition at Confused.com."
Ted made national headlines in April 2010 when his home made warning sign against potholes was removed by the local council.
The petition can be signed here: Confused.com Pothole Road Sign Petition
A few pothole facts:
Pothole damage costs UK drivers on average £400 a year.
Even if they were given the budget they need, it would still take at least 11 years to repair the UK's damaged roads.
The average UK motorist encounters 10 potholes per day.
90% of UK drivers don't feel adequately alerted to potholes on the road.
There are over 2 million potholes in the UK.
82% of drivers would like to see a road sign dedicated to potholes.
If the pothole problem increases at its current rate, by 2030, the amount of potholes in the UK will be as long as the M4 (189 miles) if linked together or the same size as Disney World Florida!
The structural budget for roads upkeep has a £686 million shortfall.
£10.6 million was spent on road user  compensation last year.
A pothole is only officially a pothole once it's 1.5 inches deep.
UK road maintenance is currently under funded by 50%.
The average UK motorist encounters 10 potholes per day.
The average road in England is only resurfaced every 65 years. In Wales it is every 81 years.