Stories Published on April 22nd, 2011 | by Seán Ward
0
New Subaru Imprezza Revealed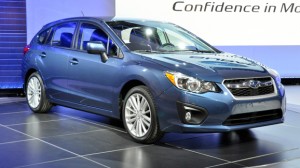 Just a few weeks after Subaru released the rather unexciting image of its next-gen Imprezza, it has unveiled the car in full at the New York Motor Show.
The latest car, like the image released a few weeks ago, looks very different to what Imprezza fans really wanted to see.
In Europe, the only initial choice of engine will be a 1.6 litre petrol with a five-speed manual – no turbo, or supercharger, just a sensible 1.6.
And because Subaru wants this car to be less sporty than previous models, it hasn't released any performance figures.
Hopefully, the engineers will get bored with the 1.6 and slot a V8 in.