Stories Published on February 10th, 2012 | by Seán Ward
0
New Tesla Model X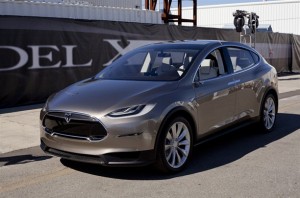 Tesla has unveiled a new performance car today, but unlike its current Fisker model, this is a full sized seven-seat SUV.
Named the Model X, if it arrives in the UK in 2013, it can have either a 60kWh or 85kWh  electric motor capable of around 280 miles on a single charge.
Oddly, the Model X can get from 0-60 mph in 4.4 seconds, despite it weighing nearly 2000 kg.
All four wheels are powered by the motor, so it could probably even do the 0-60 run and embarrass Porsches in a muddy field, let alone on the road.
Tesla co-founder Elon Musk said "It has more room than a minivan, more style than an SUV and more performance than a sports car".
If the X goes into production, prices will start at about £50,000 and rise to £85,000 for a sporty version which will be announced in a few months time.
Best of all, 'falcon rear doors', a bit like the ones on the Fisker Karma and Mercedes SLS, are included on all models.
[portfolio_slideshow]