Stories Published on July 17th, 2012 | by Seán Ward
0
New Twin-Air Mito – Small Engine, Small Bills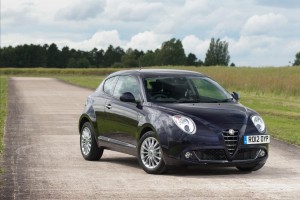 Alfa Romeo has slotted its smallest engine, the 875cc twin-cylinder turbo, into the body of the Mito to create the Twin-Air Mito, which is on sale now for £14,150.
While it seems pricey compared to a basic Mito (the cheapest Mito at the moment is the 1.4 litre Progression model with 75 bhp), it does have positives. Not only will it achieve 67 mpg, but it produces less than 100g of CO2, so there's no London congestion charge.
Alfa says the new car 'takes everything Alfa Romeo knows about sports car dynamics and distils it into one head-turning supermini', and at first glance the tiny engine seems like it might not be up to much, but in reality it's not bad at all.
You get 85 bhp and 106 lb/ft of torque, which is enough to get the car from 0-60 mph in 12.5 seconds and on to a top speed of 108 mph. But, and this is a big but, the small engine, small car, at least in terms of feel, is supposed to hark back to cars like the mini, where there was no need for a massive engine, and the performance (the noise in particular) was enough to make you feel like you're going much faster than you really were; that is one of the true bonuses for small two or three cylinder engines.
£14,150 gets you the TwinAir or the TwinAir sprint, which give you ABS, alloy wheels, 7 airbags and a CD/mp3 player, and £15,350 gets you the 'Distinctive' model, the car with the higher trim grade, in which you get sports seats, chrome window sills, red Brembo brake calipers and rear parking censors.
[portfolio_slideshow]