Stories Published on April 2nd, 2012 | by Seán Ward
0
New Twingo Renaultsport 133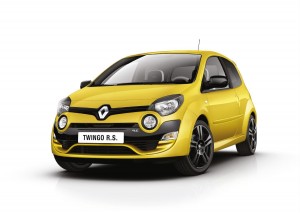 Orders open today for the new hot Twingo, the Renaultsport 133.
Prices start at £13,565, for which you get a hand stitched leather steering wheel, drilled aluminium pedals, bucket seats, Bluetooth, cruise control and a traction control system.
Outside, a number of features distinguish it from the standard Twingo: a black rear spoiler, rear diffuser, an 'F1 style blade' on the front bumper, and a set of very shiny and expensive 16" wheels.
And if you're willing to spend a little extra money, black 17" alloys cost an extra £500, metallic paint an extra £460, and the 'unique Liquid Yellow' paint an extra £1,300.
The final option is the cup chassis, which costs another £700 – that might seem a lot but is probably the most useful option of all.
But don't think that the 133 is nothing more than a Twingo with custard paint and carbon fibre wings, because the 1.6 litre, naturally aspirated engine (keeping with Renault's habbit of ignoring turbos) produces 133 bhp, 160 Nm of torque, has a 0-60 mph time of 8.7 seconds and a top speed of 125 mph. And it'll get 43 mpg, which is better than almost any other hot hatch.
[portfolio_slideshow]