Paris Motor Show 2012 Published on September 5th, 2012 | by James Allen
0
New Volkswagen Golf: tech specs and image gallery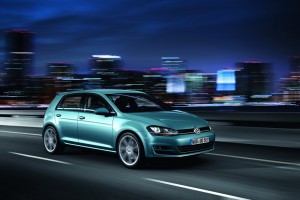 It's been a long wait, but the new Volkswagen Golf has finally been officially announced, along with a vast array of technical details and specifications that add up to, on paper at least, the Mk 7 Golf being a substantial statistical improvement over its predecessor.
In fact, there's so much to cover on this new Golf, we've split this article up into smaller segments, to summarise what can only be described as a vast mountain of details and points to cover.
Exterior:
At first glance, the new Golf looks incredibly similar to the one you can currently find somewhere in your nearest Volkswagen showroom. That said, there are quite a few subtle changes that help differentiate the current car from the one that'll replace it by the end of the year.
For example, the eagle-eyed amongst us will be able to spot the slightly flared wheel arches, more upright rear and thicker C-Pillar, along with the sharp crease that runs along the doors of the car, the reduced front overhang and the 'cab-backwards' shift in the Golf's overall proportions.
Volkswagen will initial sell the new Golf as a five-door, though we're assured there'll be plenty more bodystyles to choose from. These include a three-door, a slightly higher 'Golf Plus', an estate, a four-door 'CC' saloon and a two-door convertible.
Interior:
With the new Golf being longer and wider than the previous car (though the roofline is marginally lower than it is on the Mk 6), Volkswagen is keen to point out that interior space has been much improved this time around. The boot is now rated at 380 litres – some 40 litres more than the current Golf – whilst shoulder room as been improved by 30mm. VW is also claiming slightly more rear leg room this time around as well.
The Golf has always been an 'evolution, not revolution' sort of car, and as a result the interior design and architecture is mostly similar to what you'd find in the Mk 6 Golf. That said, there are some subtle differences – the switch gear has been redesigned and now sports 'rounded edges', the steering wheel now adopts a 'flat bottom' and, if the pictures are anything to go by, improved levels of build quality.
However, it's worth pointing out the pictures and promo video are representative of what you'll get in higher-spec cars with quite a few (we assume) optional extras added, so cheaper cars that are equipped with less gadgets will differ slightly on the inside. That said, Volkswagen says all cars will come with a multi-collision braking system that'll stop the car from colliding with other vehicles if the driver ends up involved in an accident, which should (in theory) prove to be a useful feature.
All Golfs will also come with a touchscreen 'MIB' infotainment system, though the stuff it can do will vary, depending on which Golf model you opt for.
Under the skin:
Whilst the previous Golf was basically a re-engineered version of the one that preceded it, the new Golf has been re-engineered from the ground up on an all-new 'MQB' platform that debuted on the latest Audi A3 earlier this year. Thanks to new construction techniques, the steel platform is 37kg lighter than the Mk 6′s, despite being longer and wider.
In fact, the whole car is substantially lighter than the one it replaces, with Volkswagen claiming each model is up to 109kg lighter than its current equivalent, which means the lightest version of the new Golf will weigh in at just 1,050kg. As are the words of VW Chairman Martin Winterkorn, "we have reversed the upward spiral of weight, but it is safer, more comfortable and more spacious".
As always, the VW Golf will be predominantly front-wheel drive, with all models coming with an electronic differential lock and MacPherson struts at the front – lower spec cars will get a torsion rear axle, whilst higher spec Golfs will come with a more advanced multi-link setup at the back. However, given the MGB platform can accommodate four-wheel drive, and previous Golf variants have been made available with AWD, we wouldn't discount there from being an all-wheel drive Golf variant in the near future.
Engines and transmissions:
From launch, Volkswagen will only be offering four engines in the new Golf: two petrols and two diesels. However, being engines from the VAG Group, and considering the stats that are being claimed, the early Golf buyers won't exactly be 'disappointed' with them.
The petrol range will, until further notice, consist of a 1.2 and a 1.4, both of which will have four-cylinders and turbochargers. The smaller of the two boasts 85bhp and returns 57mpg and emissions of 113g/km of CO2, whilst the 138bhp 1.4, thanks to its cylinder deactivation technology, can score an even better 112g/km of CO2, and return nearly 59mpg.
With regards to the diesels, there'll be a 1.6 and a 2.0, both of which are heavily reworked versions of the TDIs you'll find in a variety of Volkswagen Group cars, with VW stating the 1.6 will be able to return 74 mpg and churn out a road tax-exempt 99g/km of CO2.
The real headline stealer, though, has to be the BlueMotion variant that's currently undergoing development. Though it uses the same 1.6 four-pot engine, it can allegedly return 88mpg and cough out just 85g/km.
In the future, though, there'll be a vast array of engines to choose from. Volkswagen is apparently working on other 1.2 and 1.4 petrol engines, along with the aforementioned BlueMotion diesel, a GTD, a 1.4 petrol 'TwinCharger' engine and, of course, the 222bhp and 276bhp 2.0 turbo-petrols that'll be available with the GTI and R performance models.
Volkswagen is also planning on petrol-electric hybrid versions of the Golf, along with a full-electric version. However, we wouldn't count on them going on sale anytime soon.
As far as gearboxes go, the usual array of five and six-speed manuals, along with the six and seven-speed DSG automatics, will find their way into the Golf range.
Other info:
The new Volkswagen Golf will go on sale later this year, around about November time, with its public debut being – yes, you guessed it – this month's Paris Motor Show.
It's mostly likely during the Paris Show that even more details, such as UK pricing and delivery dates, will be revealed then.
In the meantime, feel free to check out our extensive image gallery below.
[portfolio_slideshow]