Stories Published on February 18th, 2011 | by Seán Ward
0
Next Bentley Continental GT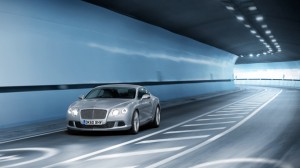 Bentley has released pictures of its up and coming Continental GT.
The general shape has stayed the same, however there are a few new creases to the body work, as well as a different, but still familiar, rear end.
The new car features the same 6.0 litre W12 engine but the power has been increased from 552 bhp to 567 bhp. Not only that, but the torque has risen from 479lb/ft to 516lb/ft.
The increased power, combined with a faster gear box, allows the GT to get from 0-60 in 4.4 seconds.
The changes to the body work have been accompanied by new 21 inch wheels, fatter tyres, firmer suspension, lowered ride height, and a new traction control and electronic stability system.
The interior has changed but only slightly.
Published on 10th September 2010 at www.motoringpress.wordpress.com.

[portfolio_slideshow]