Formula One Published on July 31st, 2011 | by Seán Ward
0
Nick Heidfeld Escapes Burning Lotus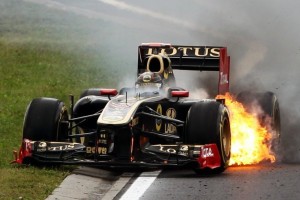 Nick Heidfeld narrowly escaped his burning Lotus F1 car at the 2011 Hungarian Grand Prix.
While leaving his pit garage on lap 35, smoke appeared from the left hand side of Heidfeld's car.
Then, as he left the pit lane, more smoke and sparks erupted, followed by flames.
The fire took hold of the car before Heidfeld reached the end of the white line denoting the pit exit.
After leaping from the car, the marshals tackled the car before the left side of the rear exploded, showering the marshals in debris.
Heidfeld escaped unharmed, as did the marshals, saying "The pit stop took longer than it should have which is why something must have overheated.
"My first thought when I saw a little bit of smoke was 'let's go, maybe the wind will put it out' as that's what has happened before. This time the smoke kept coming and then I saw the fire coming quite close so I jumped out.
"Afterwards there was a small explosion which I've not seen before on an F1 car."
[portfolio_slideshow]