Stories Published on November 5th, 2011 | by Seán Ward
0
Nissan's 'Taxi of Tomorrow'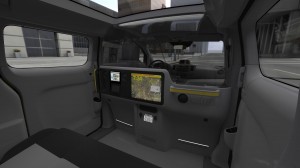 Nissan is giving New Yorkers a taste of what Nissan believes is the 'Taxi of Tomorrow'.
New York City officials were the first to get a glance at the car, before members of the media and eager motoring enthusiasts climbed aboard.
The NV200 Taxi design reflects the input of hundreds of taxi owners and drivers, as well as thousands of passengers, who shared their ideas and priorities with Nissan designers and engineers.
The car includes a spacious boot, a transparent roof, sliding doors, USB charging facilities for passengers, independant passenger controlled heated seats and air conditioning, and 'easy to clean seat upholstery', for when hen nights get a bit out of hand.
Joe Castelli, Vice President of Nissan Fleet and Commercial Vehicles said that "Over the past century, New York City's taxis have become known around the world for iconic exterior styling, but now with the NV200 Taxi, Nissan is bringing iconic design inside the taxi, while improving the comfort and safety of passengers and drivers."