Stories Published on April 23rd, 2012 | by Seán Ward
0
Nissan GTR vs. Lamborghini Murcielago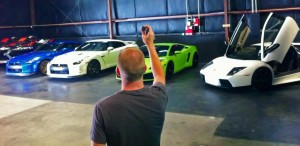 Robert Himler traded in his Audi R8 for a Nissan GTR a month or two ago, before buying another GTR. But he also has a Lamborghini Gallardo Twin Turbo, and so decided that the Gallardo was getting lonely, leading him to purchase a Lamborghini Murcielago.
And now he's brought the first Nissan GTR and the new Murcielago together for an epic, noisy battle.
So join Robert, and his Australian friend Amy, as they burn some fuel.
[portfolio_slideshow]