Motor Shows Published on December 3rd, 2011 | by Seán Ward
0
Nissan Juke Nismo Concept at Tokyo 2011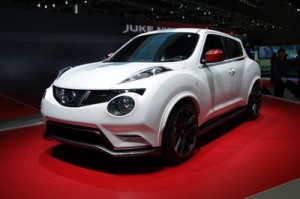 At the Nissan stand at the 2011 Tokyo Motor Show, a sportier, sleeker, more aggressive looking and faster Nissan Juke has been unveiled: the Nismo.
Finished in signature Nismo colours of pearl white with red highlights, race developed body panels feature on the concept, increasing down force but somehow reducing aerodynamic drag too.
Wider track tyres are fitted with 19 inch alloy wheels as standard, as is the Nisomo 1.6 litre turbocharged engine.
"As the Concept shows, Nismo brings new levels of individuality to mainstream Nissan cars like Juke. The future for Nismo is to develop premium sports designs for an ever-widening range of customers," said Nismo President, Shoichi Miyatani.
"Our forthcoming range of cars will be just as accessible and innovative as every Nissan product, but with added Nismo energy they will be even more fun to own and drive."
Andy Palmer, Executive Vice President of Nissan added "The global sales success of Nissan Juke has proved beyond doubt that customers are looking for something different. The Juke Nismo Concept takes that idea to the next level – It's energetic, distinctive and highly desirable."
[portfolio_slideshow]