Stories Published on January 10th, 2012 | by Seán Ward
0
Nissan Juke R Performance Figures Released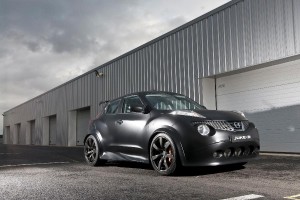 Quite how these figures are possible for something as big as the Juke we really don't know – it's nothing short of staggering.
Nissan has announced this morning that the Juke R is capable of 0-60 mph in 3.7 seconds, and has a top speed 160 mph (257 kph).
Designed, engineered and built in England, the journey of the R has been documented thoroughly over the last 22 weeks, but, as with the announcement all other performance cars, what the fans have wanted to know is what it can do when you poke the throttle.
The Juke-R has a 485bhp, 3.8-litre V6 twin turbo, and uses the same launch control system as the GTR to get it off the line.
Understandably, the chassis has been highly modified to deal with the increase of power from 190 bhp to 485 bhp, and torque from 240 Nm to 588 Nm.
Also used is the Nissan GT-R's suspension and drivetrain, as well as an FIA-specification roll cage and unique split rear wing.
Dimensions remain more or less the same: it's the same length as the standard Juke at 4135mm, the same height at 1575mm, and has the same wheelbase at 2530mm, but to improve high speed stability and accommodate 20-inch RAYS forged alloy wheels, the width has increased from 1765mm to 1910mm.
OMP racing seats, a satnav system and the GTRs controls are included as standard in the R, moving the interior away from the somewhat complicated standard Juke interior.