Stories Published on March 22nd, 2012 | by Seán Ward
0
Nissan Le Mans Batmobile – More Pictures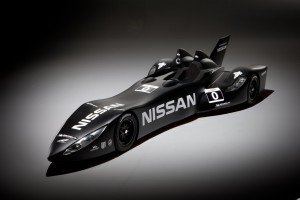 Nissan has released more photos of the rather imposing Le Mans 'DeltaWing' bat mobile, due to be raced for the first time at Le Mans in June.
The DeltaWing is something of a radical change when you look at the current range of Le Mans winners – it's hard to believe Audi would ever have the creativity or boldness to design, develop and then field a car like this.
It has a modest turbocharged 1.6 litre engine with an around 300 bhp, but the car weighs half as much as a normal Le Mans car and has half the drag coefficient too.
Andy Palmer, Executive Vice President of Nissan UK, explained why the DeltaWing project is such an exciting one: As motor racing rulebooks have become tighter over time, racing cars look more and more similar and the technology used has had less and less relevance to road car development. Nissan DeltaWing aims to change that and we were an obvious choice to become part of the project.
"This announcement gives Nissan the opportunity to become part of a ground-breaking motorsport project and one which could shape the future of the sport."
The car's British designer Ben Bowlby added: "Nissan has provided us with our first choice engine. It's a spectacular piece. We've got the engine of our dreams: it's the right weight, has the right power and it's phenomenally efficient."
The Nissan DeltaWing will run from garage 56 at Le Mans, the garage specifically for experimental racers, but it will be unable to collect any trophies because of this designation. As a result, it will bear the number '0'.
[portfolio_slideshow]