Le Mans 24 2013 Published on June 24th, 2013 | by Seán Ward
0
Nissan Unveils the World's Fastest Electric Car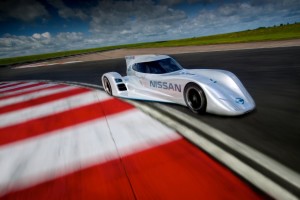 Fans of the Deltawing prepare to get incredibly excited, as Nissan has unveiled not only the world's fastest electric racer but the world's fastest electric car: the ZEOD RC.
ZEOD RC stands for 'Zero Emission On Demand Racing Car', and Nissan say that not only will it reach speeds "in excess of 300km/h" but that it will compete in the 2014 Le Mans 24 Hours as the 'Garage 56' entry, a spot reserved for cars that use innovative new technology and are a break from the 'normal' entries.
But has Nissan decided to build the ZEOD RC? And why does it look like the Deltawing from 2012? Well Nissan have announced that they intend to make a comeback to LMP1 at Le Mans and the World Endurance Championship as a fully-fledged factory outfit (there were 15 Nissan powered LMP2 cars at Le Mans this year), and leading the project for the ZEOD RC project is former Nissan Deltawing leader and creator Ben Bowlby, who has also been appointed as Director of Motorsport Innovation for Nissan.
"Developing a car like this provides an incredibly challenging test bed for what could be highly-effective options for road cars of the future," said Bowlby.
"We have many options to consider and test. The test program is part of a longer term goal of developing a system and a set of rules for this type of technology in partnership with the ACO that would be best suited to competing at the highest level of this sport. A large part of our work in the coming months is to discuss with the ACO future opportunities for the 'electrification' of the Le Mans rules in the future and work towards delivering appropriate technology. "
"Our design team on the Nissan ZEOD RC program has concentrated heavily on packaging and aerodynamic efficiency that will not only provide extreme performance but high levels of energy efficiency – the goal for all global automakers.
But what happened to the Deltawing project from 2012? Le Mans 2012 didn't end well for Deltawing; despite it being one of the fastest cars on track, as well as one of the lightest and most efficient, it was also one of the most difficult to see, as Toyota TS030 driver Kazuki Nakajima knocked the deltawing, driven by Satoshi Motoyama, into a wall at the Porsche Curves.
Nissan left the partnership with Bowlby late in 2012, leaving his company DeltaWing Racing Cars to find a new partner, which came in the form of Don Panoz.
The DeltaWing competes in the American Le Mans Series, with Bowlby still at the head of the project and company whilst also looking after the ZEOD.
The ZEOD RC will begin testing in July, so that'll be the next time we see it and get any hit of the driver line-up for Le Mans.
[portfolio_slideshow]