Geneva Motor Show 2012 Published on February 8th, 2012 | by Seán Ward
0
Nissan's Invitation Concept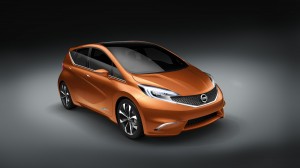 Nissan has released a new B-segment contender, the Invitation, which will be launched at the 2012 Geneva Motor Show in March.
Built as a rival for the Vauxhall Meriva and the new Ford B-Max (also due to be unveiled at Geneva), the shape supposedly showcases "dynamic potential, class-leading aerodynamics and enhanced efficiency", although it lacks more practical sliding rear doors that the B-Max has.
Dominated by what Nissan calls the 'squash line', the Invitation is a handsome little car with impressive fuel efficiency and carbon dioxide figures: 55 mpg should be easily achievable, as should 100 g/km of CO2.
As for the name, François Bancon, Deputy Manager of Product Planning at Nissan, said it was an obvious choice: "The name we have given to this concept is self-explanatory. It is designed to be inviting thanks to its sensuous exterior design and generous and comfortable interior space, cleverly packaged within compact overall dimensions."
Nissan will also be unveiling the e-NV200, a new all-electric vehicle that will replace, or at least come alongside, the current Leaf range within the next seven years.
Paul Willcox, Senior Vice President of Sales Europe said: "The future product vision promised by these concept vehicles – when added to the strength and depth of our full range – shows the confidence coursing through every aspect of Nissan today."
[portfolio_slideshow]