Stories Published on January 17th, 2012 | by Seán Ward
0
Nissan's Self-Healing iPhone Case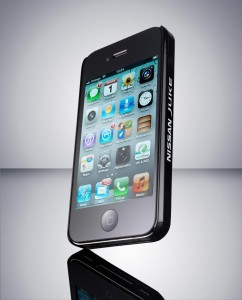 Nissan has once again turned their attention away from cars and towards something a little more affordable.
A self-healing iPhone case, designed for the new 4 and 4S models, uses "Nissan's innovations from the automotive world to create a robust iPhone case".
The Nissan Scratch Shield iPhone Case has a special self repairing paint used on some of Nissan's cars since 2005 after it was developed by Nissan, the University of Tokyo and Advanced Softmaterials Inc.
The shell, made of ABS plastic (a very robust industrial plastic) is coated in a polyrotaxane 'paint', the chemical structure of which is able to react and change back to its original shape and to fill the scratch.
The paint car 'heal' within an hour, removing any trace of damage, although bigger scratches, Nissan says, can take up to a week to heal.
Bob Laishley, Overseas Programme Director of Business Development for Nissan in Europe, said: "We like to think laterally by taking the great innovations we've got from an automotive point of view, and looking at how they could be applied to improve everyday issues.
"The Scratch Shield iPhone Case is a great example of us taking a Nissan automotive technology that has had a huge impact for our customers, and then shifting the boundaries to apply it to another everyday product.
"We're really excited about the possibilities provided by this technology. In Japan, we've already linked up with world-leading mobile operator NTT DoCoMo to allow them to use the Scratch Shield technology on its Style Series N-03B mobile phones, and we think this technology has real scope beyond the automotive world.
"We're passionate about innovations that get people excited, and that means not being restricted to one industry or genre."
Although on trial at the moment with journalists, if the product is deemed worth of production, it could be on the shelves to Christmas 2012.
[portfolio_slideshow]