Stories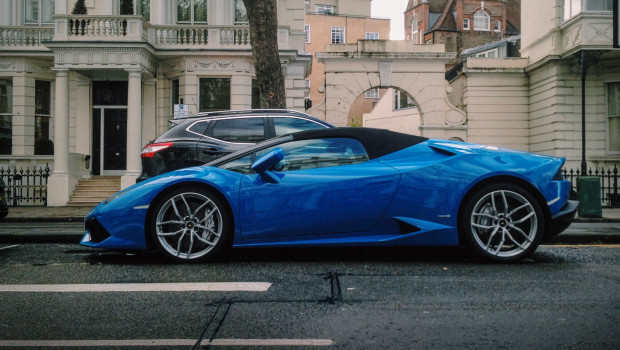 Published on May 8th, 2017 | by Seán Ward
0
Nowhere Is It More Important To Buy The Car You Really Want Than In London
Last week I had the pleasure of wandering through the streets London for two days. Having been to London many times but never lived there, my wanderings took me through some of the more picturesque (not to mention wealthy) areas of England's capital city, including Kensington and Knightsbridge.
Aside from gazing at the architecture, watching Londoners do Londoner things, and at one point chuckling quietly at the price of a giant macaroon in a rather up-market bakery, my eyes were drawn to one thing: the cars.
It's a well known fact that certain areas of London draw supercars from across the world like an open honey pot entices bees, and being a rather expensive city to begin with there's no shortage of locals with interesting motors.
At one point I stumbled across a road in which an Aston Martin DB9 had parked up in front of a Lamborghini Huracan Spyder, a Maserati Gran Turismo and an Audi R8. I then walked past a Ferrari 250 SWB with its bonnet up, behind which a Ferrari Modial had pulled up to lend assistance. #FerrariProblems
It was as I walked from street to street, eagerly looking up and down the length of the roads to see what else I could find, it dawned on me that there are few places in the world where buying the car you really want, the car you really dream of, is more important.
Why? Well no matter what I saw, just around the corner there was something louder and more expensive. For example, on one road I spotted a bright orange McLaren 570S. Having driven the McLaren 570S and knowing just how brilliant it is I couldn't help but dribble slightly, but within five minutes I stumbled across a McLaren 675 LT Spider, a car that is much louder and much more expensive. You see?
There's a feeling that no matter what you drive in London there is bound to be someone within just a few miles who'll make your car look totally average; if you're someone who's bought an expensive car to be seen in, to show off with and wow the crowds, chances are your time in the spotlight will be short lived.
Another side to this supercar scene is how a car you'd normally stop to look at, or perhaps even take a picture of, can fade away into the background. On one occasion I saw six Lamborghini Aventadors on the same road at the same time, and while seeing a Lamborghini on the road in any other situation would justify a photo, on that occasion it just felt normal.
There is a solution, and it's a relatively simple one: if you're planning on buying an expensive car in London, buy the car of your dreams and not the the car  you think will look good, the car that's the newest, or the car that you think pedestrians will take pictures of, because I guarantee you that just around the corner there will be another car to trump yours.
If I ever live in London I know exactly the car I'd like to own, an Aston Martin DBS. It isn't new, and most people will pass it by without stopping, but it's the car of my dreams and that's all I'd really care about.