New Cars Published on April 18th, 2013 | by Seán Ward
0
Orders Open for New Honda NSX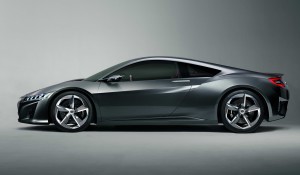 Honda has opened the order books for the new NSX, with twenty £5,000 deposits already being placed, despite the fact that the car will not be launched until 2015, and that the full price has not been announced either.
In fact there's so little information to go on that the twenty who've already placed deposits must be die-hard NSX fans. All that's known so far is that the new car will have a mid-mounted V6 engine, Honda's 'Super Handling All-Wheel Drive,' and two electric motors powering the front wheels. Perhaps the most interesting technical detail to emerge so far is that the two electric motors can deliver negative or positive torque to either wheel which would essentially act as a brake to aid both cornering speed and turning ability.
"We are really pleased with the interest we've already seen for the new NSX. We are still two years away from the launch of the car and yet we've received over 20 deposits and that's before we've even announced prices or seen the final production car," said Phil Crossman, MD of Honda UK.
The concept looks brilliant – there are no two ways about it. The angular body will probably be toned down a bit by 2015, but with some of the shapes being made road legal at the moment (the rear wing on the new McLaren P1 provides one of the most outrageous shapes on sale today) it wouldn't be surprising to see only minor changes come delivery time.
Everything else in the press release looks promising, too. Honda say the interior is 'uncluttered' to allow the driver to 'focus on the driving experience,' and that the car will offer customers 'supercar dynamic capabilities with advanced environmental performance.'
In 1995, the original NSX received twenty five UK deposits before the final production car was shown in production form, with Honda eventually going on to sell 18,000 worldwide and 290 in the UK.
The only bad news is for those who believe America can't produce good chassis, as the NSX is being developed by Honda R&D Americas, Inc. located in Los Angeles, California, and Raymond, Ohio, and the car will then be built in a new production facility for the NSX in Ohio.
Crossman added: "With this process in place we are confident demand will remain strong and early hand raisers can now visit any Honda dealership in the UK and place a deposit."
You heard the man – go to a Honda garage now!
[portfolio_slideshow]