New Cars Published on June 4th, 2013 | by Seán Ward
0
Pagani Launches Last Zonda: the Revolucion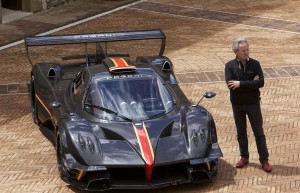 Pagani has launched what it promises is the last ever Zonda: the Revolucion.
It's the most extreme Zonda ever built: weighing in at 1,070kg, it's the same as the 'standard' Zonda R, and has the same six-speed sequential gearbox that can shift in 20 milliseconds, but where it differs is in performance.

Unlike the R, the Evolucion's 6.0 litre AMG V12 produces 800 bhp (50 more than before) and 538 lb/ft of torque (15 more than before). Hence, the power to weight ration rises from a ridiculous 701 bhp per ton to an almost impossible-to-comprehend 748 bhp per ton.
The top speed of the R was 350 kph (217 mph) and 0-60 mph took 'less than 2.7 seconds', so with the added power acceleration is likely to improve, as is the top speed, but Pagani won't say by how much.
But the best feature by far is the rear wing, for which Horacio took inspiration from Formula 1 and designed a DRS system. The wing can be activated manually, provided you're accelerating and doing more than 60 mph at the time, or can be put on an automatic system if the DRS button is held down for two seconds.
Braking performance has been improved too, with the standard R disks being upgraded so their life span is increased by four times, and their weight reduced by 15%.
Speaking at the 9th annual Pagani meet, Horacio unveiled the car saying "Limits are made to be overcome. We knew that the Pagani Zonda R was already a fast car, the fastest ever on the Nürburgring. We knew it would be very difficult to design and build a car that was even more extreme.
"But thanks to the creativity of our designers, engineers, and the whole Pagani family, we created a beautiful object and the fastest Pagani vehicle ever. A car that I am sure will electrify all our customers and fans all over the world."
Pricing starts at 2.2 million Euros plus tax, at least 800,000 more than the R. So either buy an R and buy another Zonda for the road, or buy the last ever Zonda ever made.
[portfolio_slideshow]