Stories Published on April 25th, 2012 | by Seán Ward
0
Pagani Zonda 760RS Video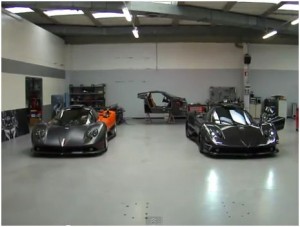 Evo always seem to be very lucky when it comes to Pagani, and now Harry Metcalfe has been given the keys to the one-off Zonda 760RS.
Thankfully for us he brought a camera, and thankfully for his pride he didn't scratch the RS which has been bought for £1.6 million.
Metcalfe gave chase to the RS during its final day of testing in the Chassis No. 2 Zonda, before getting behind the wheel himself, and then revealing that while the RS is a '1 of 1', the 760 (with 763 bhp – 110 more than the Cinqué) name is given to any car in this specification, and a 760LH (rather oddly with a manual gearbox) has been ordered by a Formula 1 champion with those initials. It definitely isn't Lewis Hamilton…
Enjoy the noise, and especially the crackles on the overrun. If the Cinqué was extreme, this really is something else.