Stories Published on February 12th, 2011 | by Seán Ward
0
Pagani Zonda R Breaks Nürburg Ring Record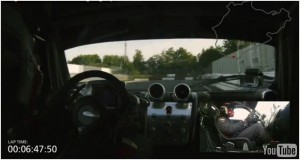 Pagani has broken the 6:58 lap record set by the Ferrari 599XX with a time of 6:47.
The Pagani Zonda R is a track-only supercar with a 6.0 litre V12 engine producing 750bhp with 524 ft-lbs of torque, giving it a 0-60mph time of 2.7 seconds.
This being the most extreme Pagani car ever, and indeed the fastest car ever to hit the Nürburg Ring, it is unlikely that the lap record will be broken again for a while.
Published on 29th July 2010 at www.motoringpress.wordpress.com.
.