Motor Shows Published on January 15th, 2012 | by Seán Ward
0
People Power for Chevrolet Design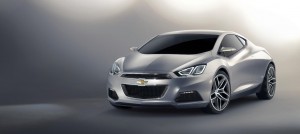 Chevrolet has unveiled two new concepts this week, but unlike any other concepts seen at Detroit, these were designed by Chevrolet fans.
Bosses and designers at Chevrolet realised that to succeed in the coming years they would need to sell more cars to a younger generation, so they calculated that there are 80 million consumers under the age of 30, who represent 40% of the automotive markets potential buyers and have an approximate $1 trillion to spend.
Chevrolet spoke to thousands of these younger potential customers, and asked for their opinions on how the cars should look, leaving us with the 130R and the Tru 140S.
North America President of GM, Mark Reuss, said that "Chevrolet has always stood for making the aspirational attainable for all generations.
"These two concepts interpret that vision for a new generation. We're seeking out our newest customers' opinions, listening to their advice, and engaging them in new ways."
The 130R is a four seater coupé that features KERS (Kinetic Energy Recovery System) and start-stop technology, whereas the Tru 140S is a front-wheel-drive 'affordable exotic' four-seat sporty coupe.
Both are made to look "confident, exotic, expensive and fast", but with 150 bhp 1.4 litre engines they won't be particularly fast, but they will at least be cheap, costing around £20,000.
Frank Saucedo, director of the GM North America Advanced Design studio in Los Angeles where the two concepts were developed, said "the young customers asked, so we listened – they want functionality with coupe-like aesthetics, so they've got it.
"This buyer prizes connectivity – allowing them to stay connected by integrating their personal devices through MyLink and WiFi enabling the vehicle to be their own docking station."
John McFarland, senior manager for Chevrolet Global Marketing, added: "For the car company that can successfully engage this generation, there is a tremendous opportunity."
"At Chevrolet, we want to build authentic and meaningful relationships with these customers on their terms. We want to hear what they have to say, engage them in our design process, and give them what they want – not what we think they want."
[portfolio_slideshow]