Drives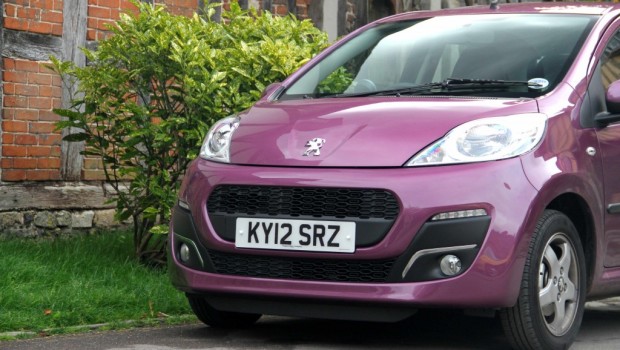 Published on February 1st, 2013 | by Seán Ward
0
Peugeot 107
The Peugeot 107 has been around for nearly eight years now, during which time the formula has remained exactly the same: small engine, small car.
But there have been a few complications in the 107's life. As the car was built in the Czech Republic in a joint venture with Toyota and Citroen (who built the Aygo and C1 respectively), when Toyota recalled many of its cars for sticky accelerator pedals, Peugeot soon realised that if they wanted people to still buy 107s, they should probably recall their cars to double check. And, the 107 was, and indeed still is, offered with an asthmatic 1.4 litre diesel engine, which is not only slower than the petrol car, but noisier and more expensive too.
But apart from that, the 107 has had a fairly uneventful life, so I was somewhat excited at the prospect of driving one for a week. For sure, it's not fast (0-60mph takes 14 seconds, and the top speed is 99 mph), but I really rather like the idea of back to basic cars, with simplicity at their heart.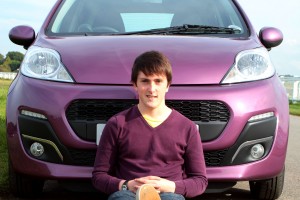 Things started off well. The car delivered to me was in a shade of purple that matched one of my jumpers, so I instantly realised the opportunity to wear clothes matching the car – an obvious fashion 'Yes!' that would impress those who saw me out and about. Secondly, the car had iPod connectivity and a good stereo system, perfect for listening to my classical playlists and Radio 4's 'Today Programme'.
But then, after a few miles in the car, I noticed a few chinks in the little one's so far spotless armour.
Firstly the gearbox. The clutch pedal's bite is right at the top of the pedal, so starting off on a hill, as I did when I first started the car, I proceeded to roll backwards into the cars behind, wondering whether the car was in gear at all. Also, when setting off from a standstill the whole gearbox shuddered and made a horrible metallic rattling noise as if it hadn't been fitted properly, and when I put the car into reverse, even with the clutch fully down, the gears would grind as if I hadn't put the clutch down at all.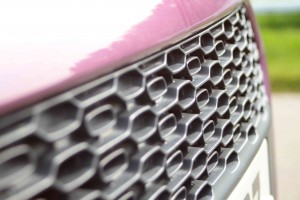 But, as the professional I pretend to be, I soldiered on through the bad times and took the 107 to town. Essentially, the 107 is designed to be a car for the city; small enough to squeeze into the most ridiculous of spaces, and comfortable enough to happily dart hither and thither, even if you're wishing you'd worked harder and could afford to pay someone to go into town for you. As a city car, though, I was expecting the car to be pretty terrible out on the open road; I expected the 107 to be as comfortable at motorway speeds as being bitten on the arse for hours on end by an angry terrier (the irritating, yappy kind), but it was a pleasant surprise to find the car was actually pretty competent. The ride is wonderfully soft, and while some have criticised the car for being too loud on motorways, to be honest, I wasn't that bothered – I didn't come in expecting a Rolls Royce, and for that reason I think I was pleasantly surprised.
But the relaxing, brow-soothing suspension and steering makes driving on slightly twistier roads a bit tricky. Nice, open, flowing roads the car laps up like any other car, but go over a bump and the whole car pitches forward, leaping and skipping. And my word does it lean – attack a roundabout with any sense of vigour or urgency and the car pitches over on to its side; it's a car that forces you, absolutely, to brake in a straight line, and never, ever accelerate too early, or you're likely to get quite a scuffed roof.
Treat it right, though, learn what it can and cannot do, and you'll find it's a really fun little car. Yes, the steering is not quick enough (you can be turning the wheel for hours like a seaman at the helm of a Royal Navy Destroyer and nothing will happen) but it's still a nice car on almost any type of road.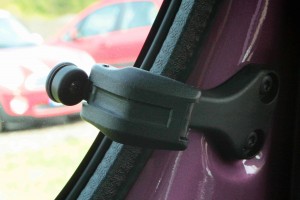 But what of the inside? Well, again, I came into the car not expecting much, but I was pleasantly surprised. Apart from the tiny boot and irritating back windows which only open an inch, everything is really rather nice: the heating dials are interesting, the seats are comfortable (though there are just four seats), the radio simple enough, and – thank goodness – the inside isn't a cocoon of black-on-black plastic. The doors hark back to the old Ford KA with bare, painted metal – a really nice change.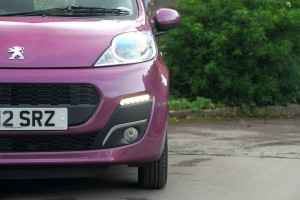 Looking from the outside, while the inside has seen very little change over its lifetime, the outside is so much better than it was before. I love the LEDs at the front, and the little chrome strips too; small changes go along way.
What else is there? Performance isn't fantastic, but my God I love that little engine; there isn't much power and there isn't much torque (put your foot down below 2500 rpm and nothing much will happen) but it makes the most fantastic, energetic three-cylinder noise I have ever heard – I love it. Whenever a 107 pulls up next to me I stop to listen to it, almost in the same way as I would for some exciting example of Italian exotica. Genuinely, it's a fantastic little engine.
Should you buy one?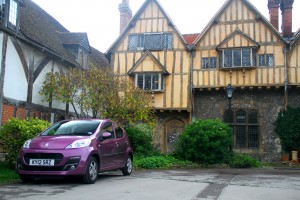 Well, the Citroen C1 and Toyota Aygo cost more or less the same as the 107 (a shade over £7000 for the three door and £9000 for the five door), so it's more a matter of badge loyalty that'll make you chose one over the others.
But if you're in the market for a genuinely small car with a fun engine and quirky interior, the 107 is a good buy. It has its faults, but I really miss it. And so does my jumper.