Motor Shows Published on September 12th, 2012 | by James Allen
0
Peugeot RCZ facelift & 'RCZ R Concept' heading to Paris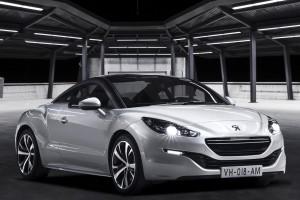 With all the new metal it'll be showing off at this month's Paris Motor Show, you'd have thought there'd be nothing left for Peugeot to announce. However, you'd be wrong, as the RCZ facelift and an interesting new concept have been revealed ahead of their debut.
When compared with the car that went on sale in the UK just over two years ago, the facelifted RCZ features some very striking styling changes, with the most obvious difference being the car's "face". Gone is the gaping grille that was pinched from the 308, with the new front air intakes being far more petite in size, and more aligned to the French firm's current design language.
The front headlamps have also been tweaked, and the redesigned front bumper now incorporates LED daytime running lamps, with more subtle details including what appear to be a new design of alloy wheels and the Peugeot badge on the bonnet no longer having its own 'surround'.
The interior has largely been left untouched, though Peugeot is quick to point out the limited 'upgrades' over the original car's trim. such as new 'Black Lacquer' trim around the gearlever, leather inserts on the doors and the fact the 'Sport Pack' (which adds a smaller steering wheel and a shorter-throw gearbox) is now available on all petrol models.
The big news, though, is the announcement of the 'RCZ R Concept', which previews what will most likely end up as the flagship in the range.
Finished in the same black and copper paint scheme as the Onyx that'll also be on display at the Paris Show, it's what's under the skin that really gets us excited – mounted upfront is the same 1.6 turbocharged petrol engine that featured in the Citroen DS4 Racing concept from last year, so the claimed power output is a claimed 255bhp.
However, what makes this engine remarkable isn't the fact it's also incredibly efficient for something with this kind of power, with Peugeot stating it emits just 155g/km of CO2. There are, though, no words on fuel consumption figures.
Other gizmos and features include motorsports-derived tyre compounds, lightweight allow wheels and a Torsen limited-slip differential.
This particular car won't be entering production anytime soon, but Peugeot has said that something along similar lines will be going on sale at the end of next year.
As for the facelifted RCZ, that's expected to turn up at your nearest Peugeot showroom sometime in the first quarter of next year, with more details on consumer-orientated info such as prices expected to be announced at the car's official unveiling.
[portfolio_slideshow]