Pikes Peak Published on April 24th, 2013 | by Seán Ward
1
Peugeot Returns to Pikes Peak with the 875 bhp 208 T16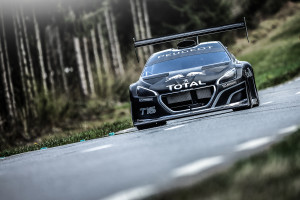 Fans of Pikes Peak will know that entrant's cars tend to be rather powerful, a point reinforced in 2013 by Peugeot's claim that its new T16 will have 875 bhp and weigh in at 875 kg.
Piloted by nine time WRC Champion Sébastian Loeb, the T16 has been entered into the 'Unlimited' class, in which there are no rules and regulations that dictate anything on the car, including the shape, weight or power – the only regulations that need to be adhered to are the basic FIA competition rules which include a roll cage, helmet, fireproof race suit and a race prepared fuel tank.

Even with the ridiculous 1 bhp-1 kg power to weight ratio, all the other tech details are still impressive and make for very interesting reading. The 208 T16 has a mid-mounted, twin-turbo, petrol 3.2 litre V6 (a break from the usual diesel hybrid motors currently used by Peugeot at Le Mans) that revs to 7,800 rpm, and it shares its mechanicals with the Le Mans 2009 winning 908 LMP1 car, so it has the same six-speed sequential 'box, the same braking system (380 mm carbon vented disks at the front, 355 mm rear), and the same two metre wide rear wing, which Peugeot say, combined with the underside of the car, produces usable down force from 60 mph.
Reading a quote from Jean-Christophe Pallier, the 208 T16's 'father', is where you learn the 208 T16 is more of a technical exercise where Peugeot Sport engineers were given the chance to build anything they wanted rather than a show car project designed to drive sales: "Your imagination is the only limit when you set out to design a car for Pikes Peak… Designing this car was a tremendously rewarding experience, even though we still had to take the 'time' factor into account."
Looking at other aspects of the car, you can see it's as far away from a 208 as a Lunar module. As well as the 875 bhp you get 651 lb/ft of torque, and claimed performance figures that boggle the mind: 0-60 mph takes only 1.8 seconds, 0-125 mph takes 4.8 seconds, and 0-150 mph (the geared top speed) takes 7 seconds dead.
Other aspects of the car that boggle the mind include the double wishbone, pushrod suspension at all four corners, impressive 18" magnesium wheels at all four corners, and a wheelbase of 2,695 mm, not much more than the 2,000 mm width of the whole car.
Peugeot set a new record in 1988 with the 405 T16 GR, so let's hope they either do the same again with the 208, or that this show of engineering will lead on to a serious commitment to road car based factory motorsport.