Concepts Published on September 11th, 2012 | by James Allen
0
Peugeot teases new 'Onyx' supercar concept (UPDATED)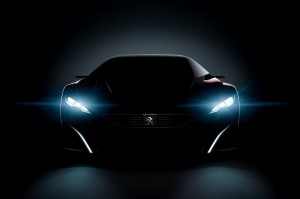 McLaren may be stealing all the headlines with rumours of the 'P12′ turning up at the Paris Motor Show in concept form, but don't go thinking it'll be the only supercar preview on display, as Peugeot seems to have something very special to unveil on home soil.
The French auto maker has just released a solitary teaser shot and an enigmatic preview promo video of what it's dubbing the 'Onyx'.
Details are scarce at the moment (unsurprisingly, or else there wouldn't be much to get excited about on the Paris Show press day), but Peugeot has announced the powertrain that underpins this – we assume – striking mid-engined speed machine.
As is the norm with most supercar concepts nowadays, there's a hybrid theme with the Onyx: the rear wheels are powered by a 1.6 engine (we assume the same turbocharged petrol four-banger that's used by a myriad of PSA products), whilst the fronts are driven by an electric motor. Peugeot claims the combined systems generate up to 400bhp.
The promo video also highlights a surprising amount of metalwork and/or carbon fibre for a teaser film, with enough detail to suggest the new concept will showcase an evolution of the firm's current design language – though massively OTT, as befitting of a supercar design study - along with what appear to be a few styling cues that have been sourced from the GTbyCitroen concept car (which doesn't surprise us too much, as Citroen is the property of Peugeot and the PSA Group).
Sources close to the concept car hint that  the Onyx won't progress from the concept car stage for the time being, though, so unless Peugeot gives it the green light, don't expect to see in production form anytime soon.
UPDATE
Peugeot's now just released a far more extensive selection of 'Onyx' images, showcasing the car's exterior and interior design. We've added them all in the gallery below, so check it out!
[portfolio_slideshow]