Stories Published on January 29th, 2012 | by Seán Ward
0
Police Officer Hit by Car Runs After Suspect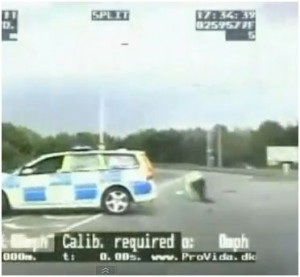 A video has emerged this week of a police officer getting hit by a stolen car before running after the driver.
The video, taken from the dash-mounted camera on a second police car, shows the first police car move forward in an attempt to stop the stolen car, before the officer in the passenger seat gets out, believing the stolen car would stop.
Unfortunately for the officer, the stolen car hits the police car, sending him flying into the air, after which he sprints after the stolen car's driver.
He received minor injuries when the incident occurred in Surrey in July last year.