Stories Published on June 5th, 2012 | by Seán Ward
0
Polo R – More Bang for your Buck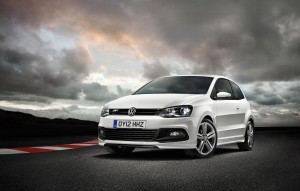 The VW Golf R costs £31,770. The VW Scirocco £30,745. The new VW Polo R costs £15,195 – is this the bargain of the century?
It's got new bumpers, tinted windows, plenty of 'R' badges and new 16-inch 'Mallory' alloy wheels, as well as bucket seats and a few dozen more 'R' badges.
All sounds promising, but you can't help but feel a tad underwhelmed by the engine: the same 100 bhp 1.2 litre petrol engine as you find in the normal Polo. But because of changes to the car itself, 0-60 takes 9.7 seconds.
9.7 seconds isn't too bad, but it's quite far off the 5.8 seconds of the Golf R and the 5.2 seconds of the Scirocco R.
Putting that aside, though, it's a special looking car with a few hidden surprises, the top speed of 118 mph and a combined fuel economy of 53 mpg being two of the best.
[portfolio_slideshow]