Paris Motor Show 2012
Published on August 27th, 2012 | by James Allen
0
Porsche 911 Carrera 4: first details and pics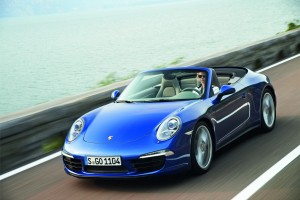 Set to make its first public appearance at the upcoming Paris Motor Show in September, Porsche has just released the first details and photos of Porsche's eventual 'baby' all-wheel drive 911; the Carrera 4.
Under the skin, the Carrera 4 is mostly the same as the RWD Carrera on which it's based – you still get the same wheelbase length, the same option of 3.4 and 3.8 flat-sixes, and the ability to choose between a seven-speed manual or PDK transmission.
There are, though, a few new changes. The most visually obvious one is the increase in the Carrera 4′s width at the rear – thanks to a fatter set of rear tyres, the Carrera 4 is 22mm wider at the back than the standard Carrera.
Other changes, though, are a bit more subtle, such as the red deflector panel between the rear lights and, in the interior, a display that tells the driver how much of the engine's power is being distributed to the front and rear.
With regards to performance, it's just as you'd expect from a Porsche. Though the extra drivetrain to the front axle does make it heavier than the RWD equivalent, it's not too porky in comparison, so it's still a quick car. For the flagship Carrera 4S with the PDK 'box, 0-60 is dealt with in 4.1 seconds, and can reach a top speed of 188mph.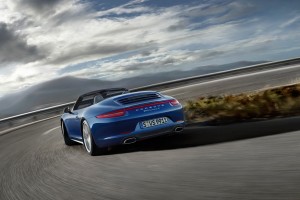 The rest of the range is undoubtedly slower, but still brisk enough for at least most buyer's needs – the 4S Cabriolet, for instance, is only two tenths slower to 60 and 4mph off what the hardtop can do, whilst the Carrera 4 coupes and convertibles can muster a 4.5/4.7 second 60mph sprint, with the respective top speeds being 177mph and 175mph.
The Porsche 911 Carrera 4 range will go on sale in December this year, with prices starting from £77,924 for the base Carrera 4 coupe, and rise to £96,619 for the more flagship Carrera 4S cabriolet. The first customer cars should arrive on our shores early next year.
[portfolio_slideshow]