Stories Published on April 17th, 2012 | by Seán Ward
0
Porsche Cayenne GTS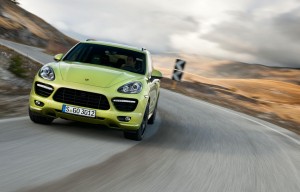 Porsche has given the Cayenne the GTS treatment, and whether or not it's a good thing giving the Cayenne more power than a Carrera GTS or a Cayman R, it's certainly quite  monster.
There's no way or arguing this is simply a school run car, unless you want children or friends to be sick; the GTS gets from 0-60 mph in 5.7 seconds, 0-100 mph in 13.3 seconds, and all the way on to a top speed of 162 mph – impressive stuff for a car that spends most of its time bumbling around posing.
Despite costing £67,147, economy and depreciation will harm your wallet badly too: 26 mpg is the absolute maximum on the combined cycle, and some Porsche Cayennes can lose £15k in a year, but the GTS badge might help it hold its value.
If money is no object, though, the GTS has some cool styling tweaks, including a rear spoiler and some 'dirty' looking exhausts. You also get tinted windows, satellite-tracking hardware, a semi-automatic eight-speed gearbox, and a lower ride height by 28 mm.
But do yourself a favour, and buy it in blue.
[portfolio_slideshow]