Le Mans 2014 Published on June 13th, 2013 | by Seán Ward
0
Porsche Prototypes Will Return to Le Mans in 2014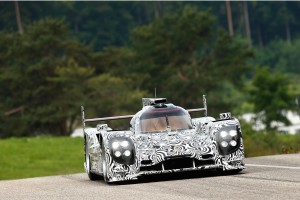 Porsche has announced that it will be returning to the LMP1 class of the World Endurance Championship, and therefore Le Mans, in 2014.
The car, which so far hasn't been named, was given its first test run yesterday at Porsche's test track at Weissach, Germany.
As well as the appointment of two test drivers for the project, Timo Bernhard and Romain Dumas, facilities at Weissach have been forced to expand to accommodate 200 extra employees directly involved in the LMP1 project, as well as a new space for the design and production of the car.
Timo Bernhard, 2010 Le Mans LMP1 winner with Audi, said he was delighted to be the first person to drive the new car: "I'm very proud that I was the one to take our baby through its first paces today.
"Already now the car feels great. I look forward to testing the vehicle in the coming weeks and months."
There are no technical details of the car at all, and there probably won't be until the 2014 WEC season, but Fritz Enzinger, head of the new Porsche LMP1 program, explained that, thanks to new regulations, the car will need to be the most efficient Porsche racer ever: "From 2014, the regulations are primarily based on efficiency. This makes the competition amongst engineers more interesting and presents us with completely new challenges."
Wolfgang Hatz, a Porsche R&D Board Member, added "we faced the same challenge as in the series production development of our road cars. Our aim was to achieve the best possible efficiency without compromising performance."
Overall, Porsche has claimed 16 LMP1 class Le Mans victories in the past, and will fight against Toyota, Lola, HPD, and fellow Volkswagen Group manufacturer Audi in the 2014 championship.
Matthias Müller, Chairman of Porsche's Executive Board said that "the engineers were able to start with a blank sheet of paper in the design of the new LMP1 car.
"They were able to apply many new technologies within the framework of the regulations that will also benefit the customers of our road-going automobiles in the future. After all, there's a race car in every Porsche."
[portfolio_slideshow]