Stories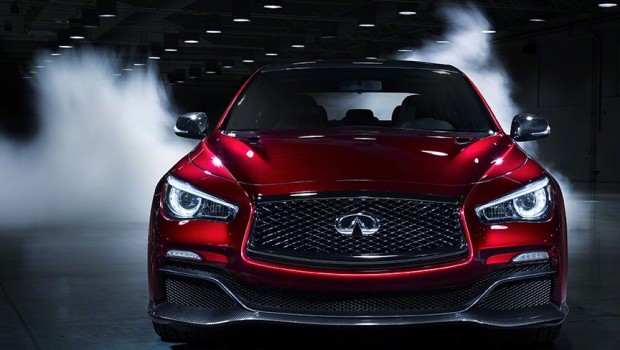 Published on January 17th, 2014 | by Seán Ward
0
Q50 Eau Rouge – The Car Infiniti Need to Build
Infiniti have yet to stamp their brand across the performance car marketplace (despite it and Sebastian Vettel's best efforts), but at the Detroit North American International Auto Show the Eau Rouge Concept looks set to change things.
Only a concept at the moment, the Eau Rouge looks as production ready as a concept could. Based on the Q50, the car has been lowered, widened, adorned with carbon fibre bodywork, and finished off with some blatant F1 car styling cues (the central rear F1 rain light being the most obvious).
While there's no confirmation that the car will be put into production, Johan de Nysschen, Infiniti's President, said "Q50 Eau Rouge provides not only a glimpse of the design language, but also the performance capability of a future special series.
"Through our various alliance partners we have access to a range of engines featuring this performance capability which, with a fair amount of engineering effort, can be developed to exhibit Infiniti character and accommodated within the Q50 engine bay. The engine we are evaluating for the Q50 Eau Rouge is a big personality, V-cylinder engine with forced induction.
"If we built this car I would expect it to feature over 500 bhp and 600 lb/ft of torque."
With the new Lexus RC F elbowing into the C63-RS4-M4 market place, the Eau Rouge would make an interesting addition.