Stories Published on December 22nd, 2011 | by Seán Ward
0
R8, M3, and an RS5 Take to the Mountains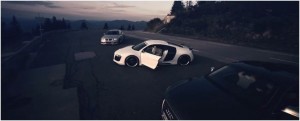 Have you ever seen an Audi RS5 and an M3 race along mountain roads, before joining an Audi R8? No? Well watch the video.
It is easily one of the most overproduced YouTube videos for a car, with the exception of corporates, to be made this year, and the fact that it's got over 80,000 views in less than a month shows how impressive the video is.
Anyway, enough chitter-chatter, watch the video.