Stories Published on January 9th, 2012 | by Seán Ward
0
Record Sales for Rolls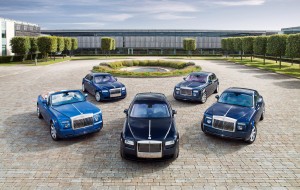 Rolls Royce has revealed its sales figures for 2011, and they really are quite startling.
Despite another difficult year for all, members of the motoring community in particular, Rolls Royce sold 3,538 cars in 2011, an increase of 31% over 2010 in which 2,711 cars were delivered to customers.
The sales high breaks the previous record for cars delivered in one year, set in 1978 with 3,347 vehicles, making it the strongest year in the company's 107 year history.
But other figures are even more astounding: according to Rolls' statistics, sales in Asia went up by 47%, in North America went up by 17%, in the Middle East up by 23%, and in the UK by 30%.
Also, in both Russia and Germany, sales doubled when compared to 2010.
"We had an outstanding year in 2011 and we should take a moment to reflect on this Great British success story," said Torsten Müller-Ötvös, CEO of Rolls-Royce Motor Cars. "Our business is in excellent shape – we are developing our dealer network, moving into new markets like South America.
"We're also expanding our manufacturing operation in West Sussex to meet global demand, and have plans to develop our product range.
"At the core of this extraordinary success is a dedicated, committed and, above all, passionate workforce."
Bentley is confident that 2012 will match, if not beat, 2011, especially after the launch of the Ghost Extended wheelbase version was launched in April, a larger car than the standard Ghost, but still cheaper than the similarly sized Phantom.
Thanks to the growth, Rolls Royce said that it would be adding to its 1,000 strong workforce in Goodwood to allow higher production rates.