Stories Published on November 24th, 2011 | by Seán Ward
0
Renault Committed to Kubica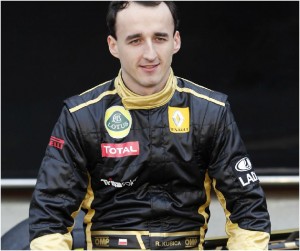 Renault has said that it is committed to see Robert Kubica's return to Formula 1 for the 2012 season.
Despite Kubica saying on Wednesday that, although his recovery is going well, he cannot commit to rejoining the team for competitive racing at the start of the 2012 season, but should be ready half way through.
Eric Boullier, Renault's team boss, said that "Robert not driving in Australia at the start of next season is not what we were all hoping for. However, he has taken a very mature decision, acting in the best interests of Lotus Renault GP.
"As a team and as a family, we remain 100 per cent behind him and we'll help as much as we can. A programme composed of simulator testing, single-seater and F1 track time is awaiting him. In the meantime, we will start talking to a few drivers in order to finalise our line-up for next year as soon as possible. Robert will take it step by step and will jump back in his racing car when he feels it is the right moment to do so.
"On behalf of all 520 members of the team, I wish him a speedy recovery."
But elsewhere in Formula 1, doubt still exists surrounding next year's season calendar as negotiations continue between Bernie Ecclestone and the management of the Austin Texas track, who are mainly concerned with financial issues.
If the negotiations are settled, Austin Texas will be the 20th race of the season.
Just a few weeks ago, however, McLaren team boss Martin Whitmarsh expressed his doubts about adding another race to the 2012 season, and the possibility of a further two races being added to that the following year.
"I think 20 races and a lot of flyaways is pretty hard on the teams and I think we're at the tipping point… You're getting close to the point that you need to take the NASCAR approach and alternate crews."