Stories Published on January 22nd, 2012 | by Seán Ward
0
Renault Tuition Fee Competition Launched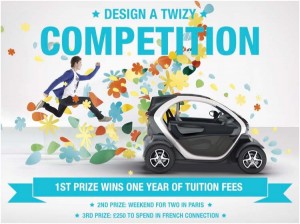 Renault has launched a competition that will see one student's university tuition fees paid for.
The competition is relatively simple: you design a Renault Twizy (Renault's new electric vehicle set to launch later this year) and if it's good enough, Renault pay for a year of your university education.
The competition closes on 20th February, after which a Renault design panel, including Senior Vice President of Renault Corporate Design, Laurens van den Acker, will bring the number of finalists down to the last 10, when the public will vote at www.designatwizy.co.uk.
The £9000 prize winner is announced on 16th April, with Renault saying "imagine the amount of supermarket own-brand baked beans you could buy with that kind of money…" Imagine indeed.
Second prize is a weekend for two in Paris, and the third place winner gets £250 worth of French Connection vouchers.
To promote the competition, Renault will be visiting University College London on Monday 13th February, Birmingham City University on Tuesday 14th February, Manchester Metropolitan University on Thursday 16th February, and the University of Glasgow on Friday 17th February.
The Twizy will cost £6,690 and have a top speed of 56 mph, with Renault's Head of Electric Vehicle Programmes, Andy Heiron, saying "We're really excited to launch the Twizy in the UK. Its low price combined with expected low insurance premiums and running costs means that Twizy will be well suited to younger drivers interested in an affordable way of getting around in style, in a much safer method than two wheels, whether it be pedal power, scooter or motorbike."