Stories Published on July 19th, 2012 | by Seán Ward
0
RS250 Vesuvius Copper Evoque by Kahn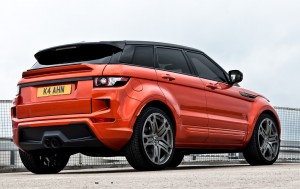 We all saw the rather incredible purple Overfinch Evoque GTS at the Goodwood Festival of Speed, and now Kahn has created another impressive machine, albeit with a rather loud paint job.
The RS250 Vesuvius Copper Evoque has the same engines as the standard Evoque from Range Rover (Kahn has never really done power upgrades), namely two 2.2 litre turbo-diesels and one 2.0 litre petrol (no V8 yet), and has all the same suspension settings, but the body and wheels are completely different.
Starting with the wheels, they are Kahn's RS600 22 inch wheels, which on their own would cost a couple of thousand.
Then you have the new body kit, which, Kahn says, "offers a whole new breadth of excitement". You get new front and rear bumpers, a boot spoiler, central exhausts, fog lamps, LED running lights, a new front grille, 'privacy glass', and 'Vesuvius Copper' brake calipers. All in all, the changes make it look rather evil.
On the inside, you get a new steering wheel, different seats, modified dials, drilled aluminium pedals and bits of carbon fibre everywhere.
It's all about looks, says Afzal Kahn: "It was a very complicated car to work on, but we worked within the factory style lines and I put my heart and soul into this.
"We spent thousands of hours working on this car because I wanted to ensure it isn't seen as a conventional car but as something more serious, and I am quietly confident that our customers will enjoy a great deal of motoring supremacy with this outstanding vehicle."
[portfolio_slideshow]