Stories Published on July 7th, 2011 | by Seán Ward
0
Sebastian Vettel on Top Gear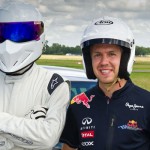 Sebastian Vettel will be the Formula One Star in a reasonably priced car on this week's episode of Top Gear.
Because of his not too shabby race career, he's too good to appear as the normal star in a reasonably priced car, but none the less receives tuition from the Stig in the original reasonably priced car, the Suzuki Liana.
Vettel appears alongside the usual shenanigans of Clarkson, Hammond and May.