Stories Published on April 21st, 2012 | by Seán Ward
0
Shelby Mustang 1000 Images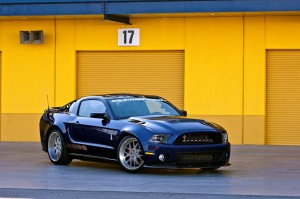 At last, we've got hold of a few more images of the new Shelby Mustang 1000, so named because this is the most powerful stock Mustang ever built with more than 1100 bhp.
Quite how many drinks the people at Shelby had necked when they thought of a standard car with this much power, we don't know, but we do know that this will give tuners like Roush the time of their lives when they add another 500 bhp or so.
It has the same 5.4 litre engine as in the older Mustangs, but has been striped, cleaned and polished and mated to a massive supercharger to produce the power it does.
Click here to read more about the Shelby Mustang 1000.
[portfolio_slideshow]