Stories Published on July 14th, 2011 | by Seán Ward
0
Sir Stirling Moss buys Aston Martin Cygnet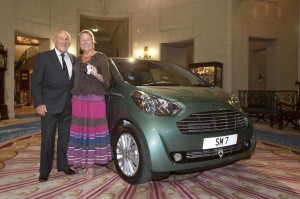 Sir Stirling Moss has bought an Aston Martin Cygnet for his wife, presenting it to her at the Royal Automobile Club, London.
Buying it as a birthday present for Lady Moss, he's become one of the first customers to take delivery of the new 1.3 litre Cygnet city car.
Sir Stirling Moss said: "My greatest partner in everything that I do, Susie is an amazing person and frankly the best wife a man could have. Since seeing a pre-production Cygnet in January I knew that it was the perfect car for Susie; a proper little piece of British luxury and perfect for our life in town."
Specifications for Lady Moss's car include Sir Stirling's choice of Aston Martin Racing Green, harking back to the company's sports cars that Sir Stirling raced in the 1950s, as the paint colour and an Obsidian Black leather interior with contrasting silver stitching.
Sir Stirling raced with Aston Martin in the '50's, winning races in both the DB3S and DBR1.
[portfolio_slideshow]