Geneva Motor Show 2012 Published on March 1st, 2012 | by Seán Ward
0
Sleek New Hyundai i-oniq Coupé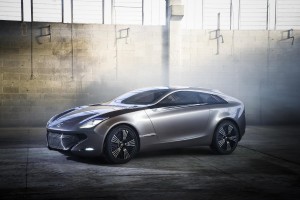 Hyundai will be unveil a new concept car alongside the new i30 Wagon at Geneva 2012, known as the 'i-oniq'.
In all honesty, this is one of the most impressive Hyundai's we think has ever been created, and with any luck the concept will become a reality within the next five years.
Designed as a sports hatchback, it is 'intended to convey the latest thinking from Hyundai's designers and engineers, and evolve the company's fluidic sculpture form language'.
It also represents 'new possibilities', according to Hyundai, who say they now have a very 'futuristic' setup, with a 1.0-litre, 3-cylinder petrol engine mated, via a generator, to a lithium ion electric motor which produces another 110 bhp.
Testing has shown the electric motor can last for 120 km, but the petrol it can manage 700 km, producing just 45 g/km of CO2.